Eclipse in Ubuntu-based distributions missing update site list
If any of you are using a Ubuntu-based distribution (Ubuntu, Kubuntu, Xubuntu, Linux Mint) and do any sort of Eclipse development, the current 3.5.1 package available with the distribution (3.5.1+repack~1-0ubuntu3) is missing the standard Galileo and 3.5 update sites in the Available Software Sites list: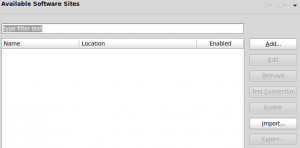 This bug has already been reported to Launchpad, but here are the relevant sites you can add to enable Galileo updates and install new plugins:
Name: The Eclipse Project Updates
Location: http://download.eclipse.org/eclipse/updates/3.5

Name: Galileo
Location: http://download.eclipse.org/releases/galileo
(This has also been cross-posted to my personal site, "Bus error".)
---
I am currently running various *BSD variants for this Experiment.
I currently run a mix of Windows, OS X and Linux systems for both work and personal use.
For Linux, I prefer Ubuntu LTS releases without Unity and still keep Windows 7 around for gaming.
Check out
my profile
for more information.